user logout link
administrator logout link
Envelope Printing
Consider adding printed envelopes to your order! Save yourself the time and hassle of addressing each and every envelope by hand, and instead add a professional, clean look to the delivery of your prints!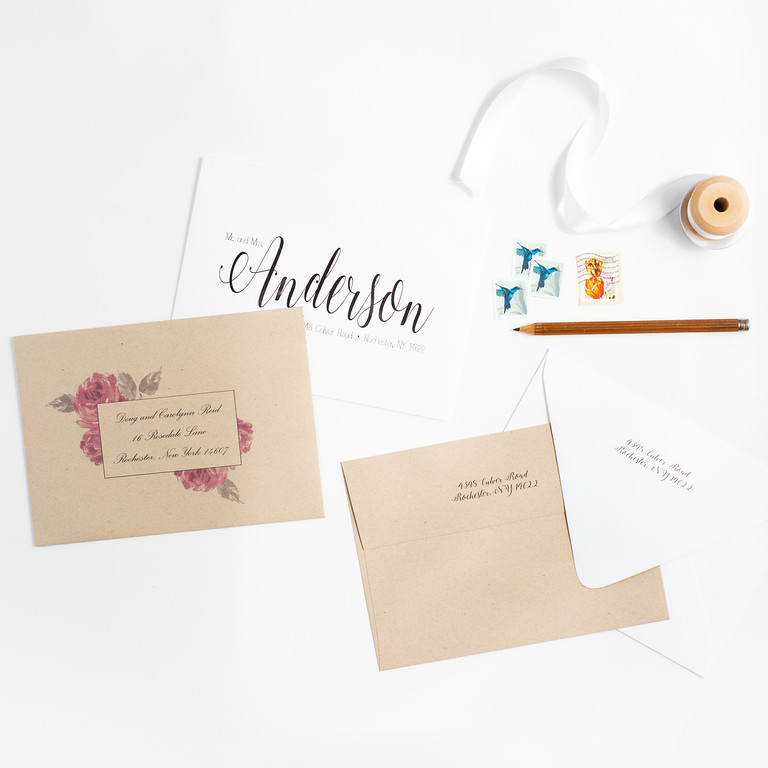 How does it work?
To place a printed envelope order, select the "Printed Envelope" option from the "Job Type" menu. You can upload your own print-ready files, or contact our Customer Service Team by email at support@catprint.com to take advantage of our variable data setup services! Learn more about variable data printing here.
Setting up your own files? Click
here
for our envelope design templates.
Pricing Guidelines:
| | | |
| --- | --- | --- |
| Envelope | One-Sided Printing | Two-Sided Printing |
| White A1 | $0.73 | $0.98 |
| White A1 Euro Flap | $0.92 | $1.17 |
| Cream A1 | $0.77 | $1.02 |
| Linen A1 | $0.84 | $1.09 |
| Shimmer A1 | $0.84 | $1.09 |
| Cream Shimmer A1 | $0.84 | $1.09 |
| Kraft A1 | $0.77 | $1.02 |
| White A2 | $0.74 | $0.99 |
| White A2 Euro Flap | $0.97 | $1.22 |
| Cream A2 | $0.78 | $1.03 |
| Linen A2 | $0.85 | $1.10 |
| Shimmer A2 | $0.85 | $1.10 |
| Cream Shimmer A2 | $0.85 | $1.10 |
| Kraft A2 | $0.78 | $1.03 |
| White A6 | $0.75 | $1.00 |
| Pale Green A6 | $0.90 | $1.15 |
| White A7 | $0.76 | $1.01 |
| White A7 Euro Flap | $0.99 | $1.24 |
| Cream A7 | $0.80 | $1.05 |
| Linen A7 | $0.87 | $1.12 |
| Shimmer A7 | $0.87 | $1.12 |
| Cream Shimmer A7 | $0.87 | $1.12 |
| Kraft A7 | $0.80 | $1.05 |
| Olive Green A7 | $0.80 | $1.05 |
| Holiday Green A7 | $0.80 | $1.05 |
| Holiday Red A7 | $0.80 | $1.05 |
| White A8 | $0.80 | $1.05 |
| White #10 | $0.76 | $1.01 |
| Shimmer #10 | $0.87 | $1.12 |
| Kraft #10 | $0.80 | $1.05 |
| White 5x5" | $0.81 | $1.06 |
| White 5.5x5.5" | $0.81 | $1.06 |
| White 6x6" | $0.81 | $1.06 |
| Cream 6x6" | $0.92 | $1.17 |
Create Your Design Upload Your Design Contact Us Online Chat