user logout link
administrator logout link
Placing An Order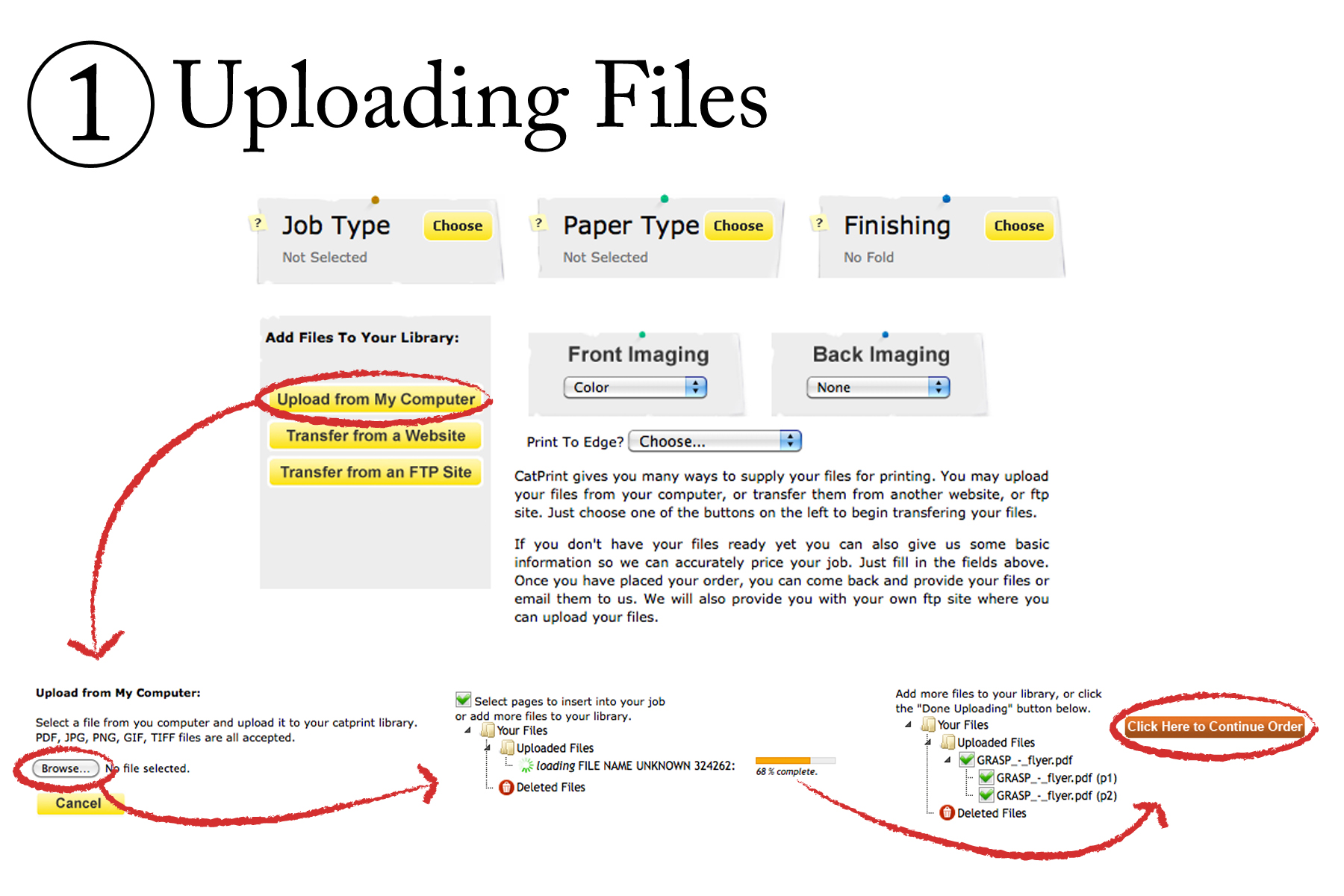 When uploading your files to your CatPrint job, you can upload them from your computer - as well as transfer from a website or FTP site. In the example shown, we are uploading files from our computer. When you click on upload from my computer it will bring you to an option to browse for the file. Once you have selected the file, it will begin uploading. When the file is completely uploaded you must check off the boxes in order to insert them into your order.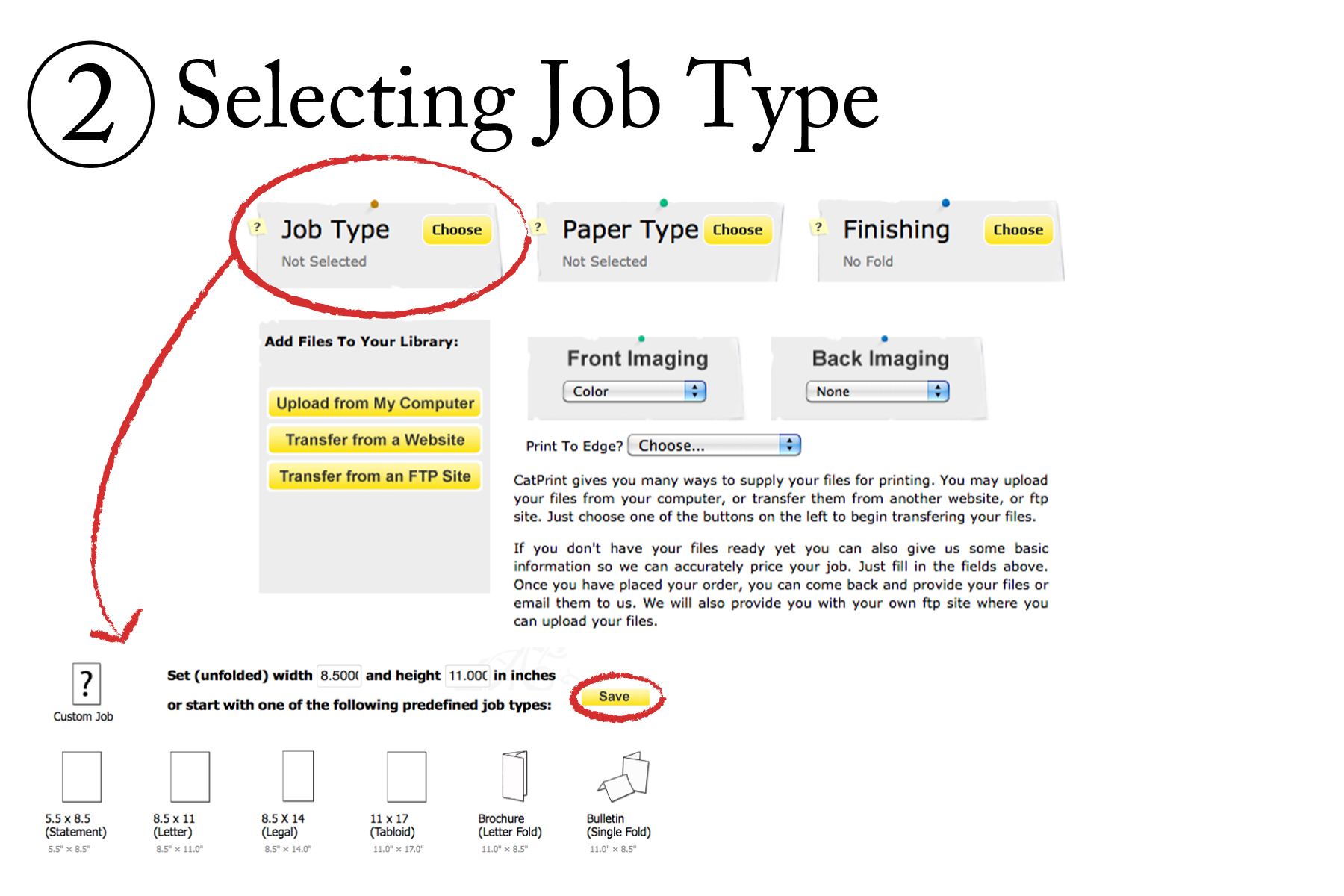 Next, select your job type. You'll have the option to select one of the listed common size jobs, or you can enter your custom size at the top of the window. In this example, we are going to print an 8.5x11" print. Then select save to continue.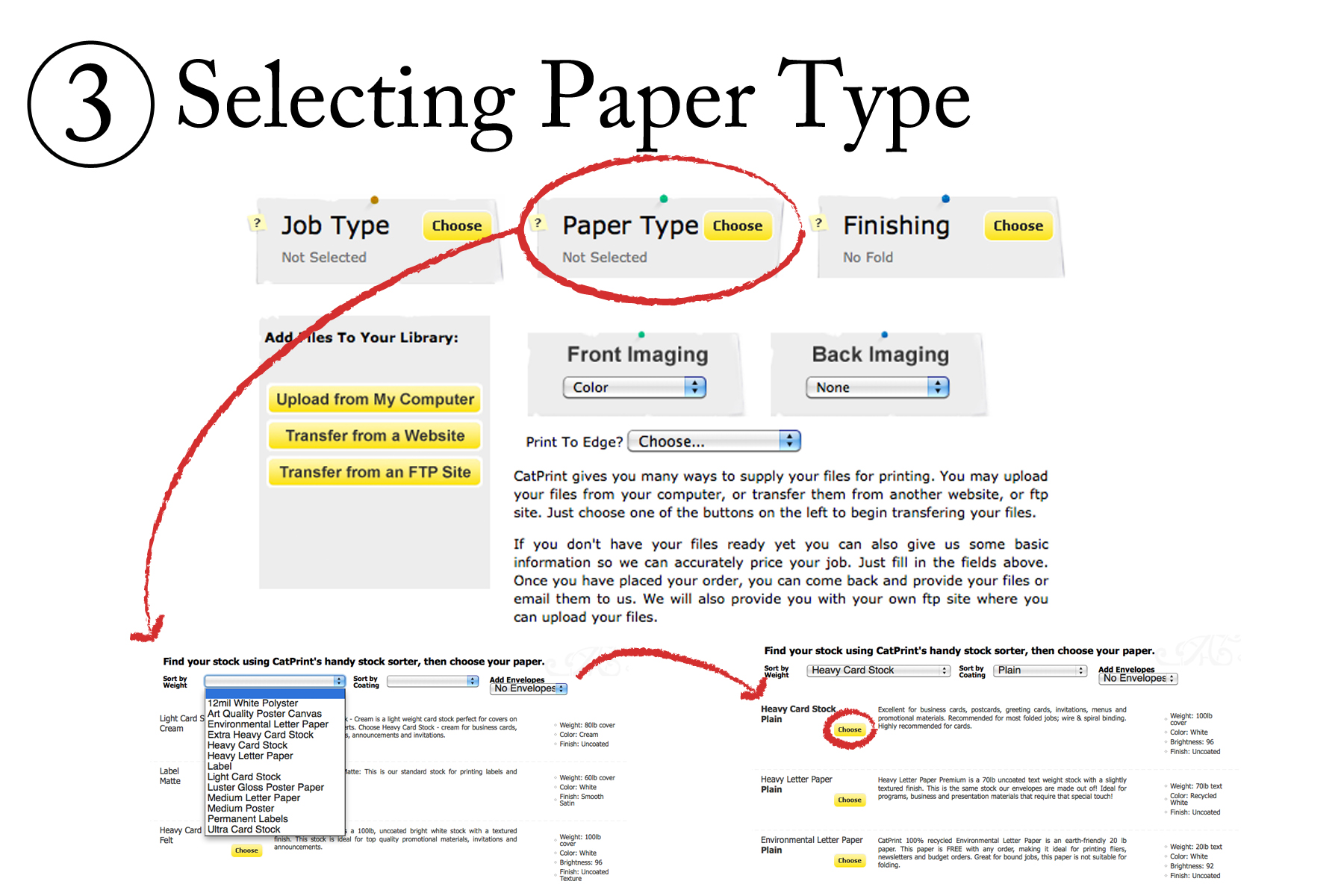 Now, select your paper type. There are sorting options by weight and/or coating to help with the decision. In this example we are going to print on Heavy Cardstock Plain. Once you have the paper type selected you can click choose to save your specifications. You will also need to select any desired envelopes in this step using the drop down menu on the right.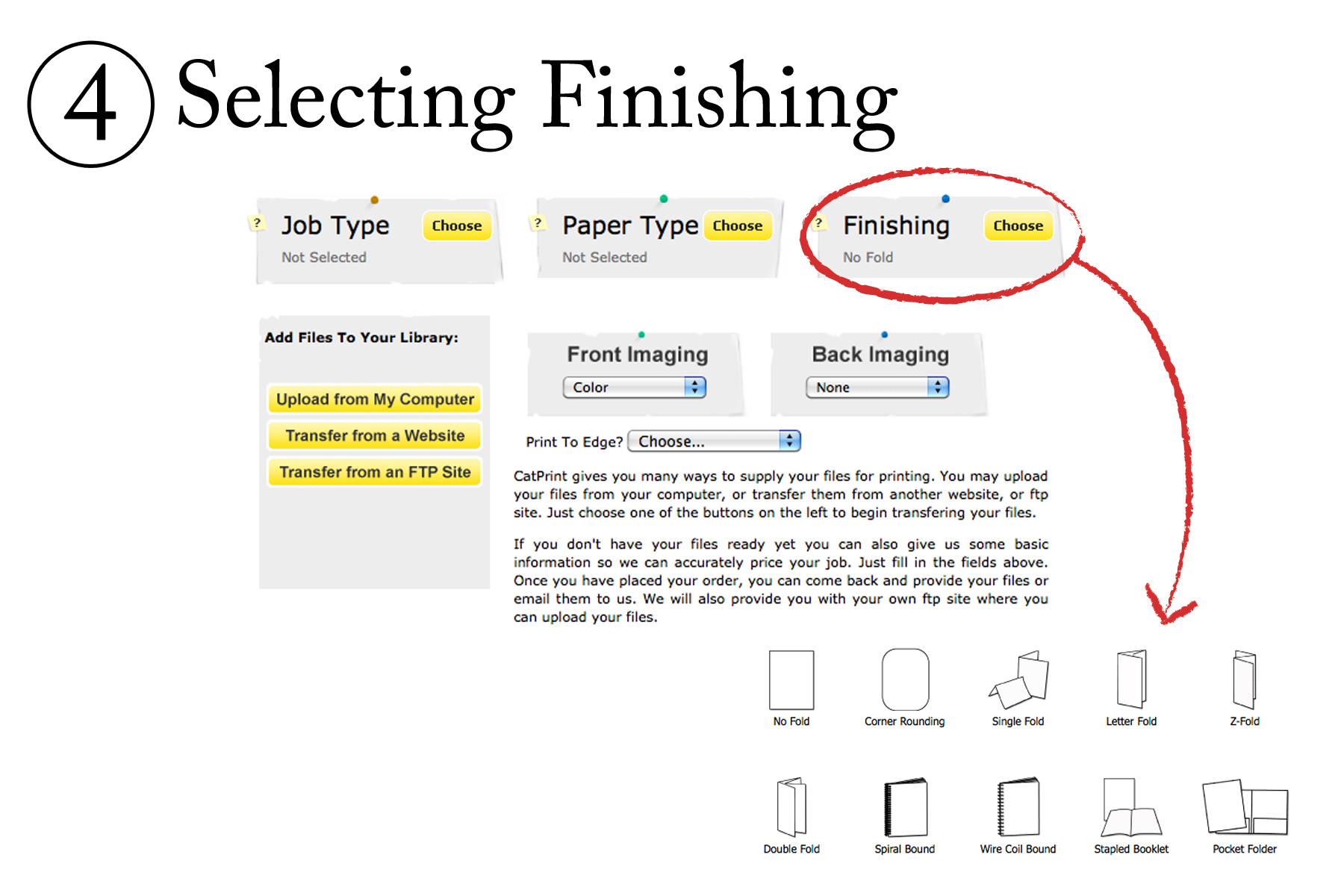 In this step, you can select finishing options such as corner rounding, or letter fold. If you have a finishing option you want to do, but do not see it listed, please contact us! If you do not wish to add a finishing option please select no fold.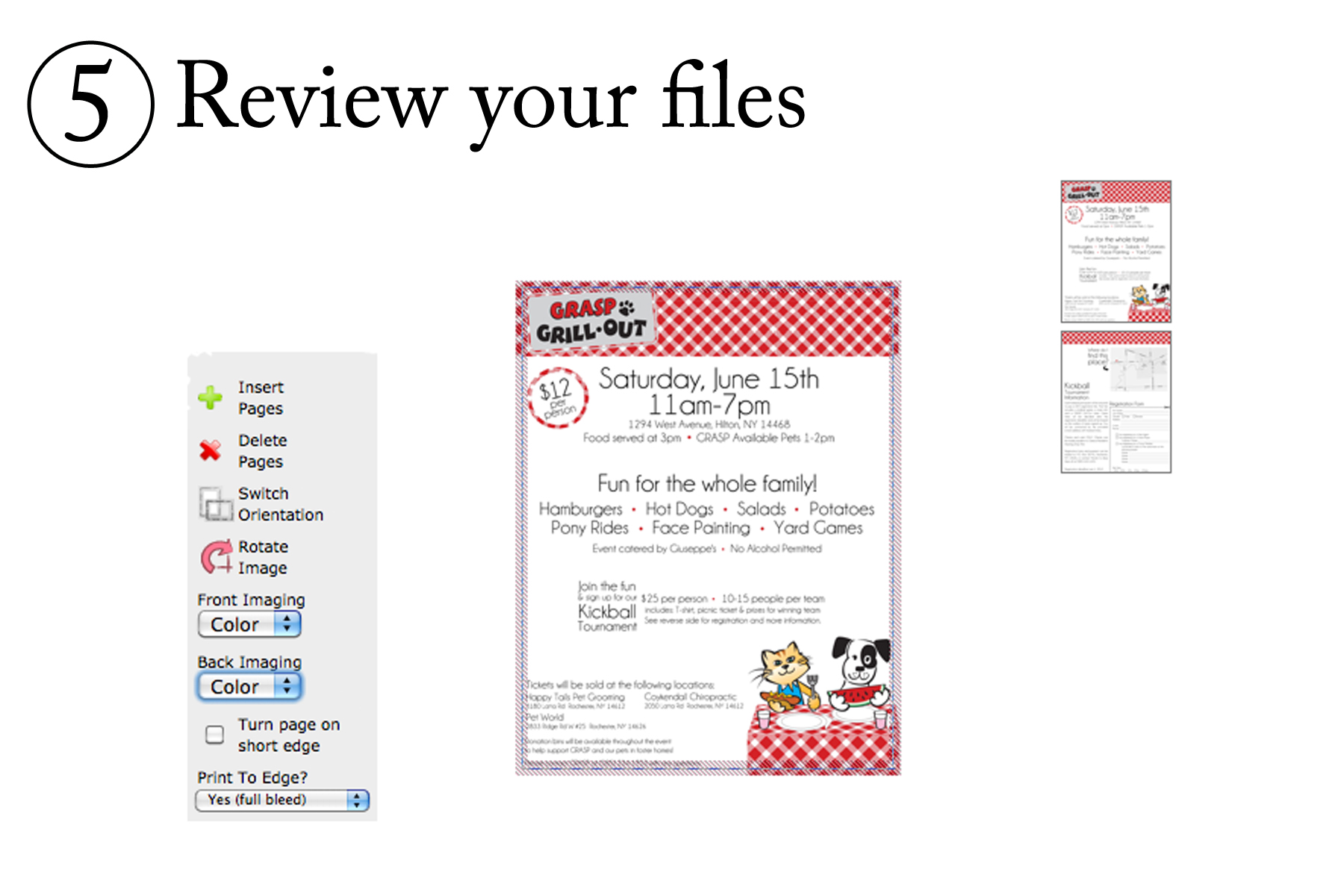 Now, review your files! In the toolbar on the left you have the options to insert more pages, delete a page, switch the orientation of the files, or rotate the image. In this step you need to specify the front and back imaging using the drop down menus, as well as the flip style. If you have questions about the flip style please contact us! You must also select if you want the file to print to the edge, also known as full bleed or no bleed, using the drop down menu.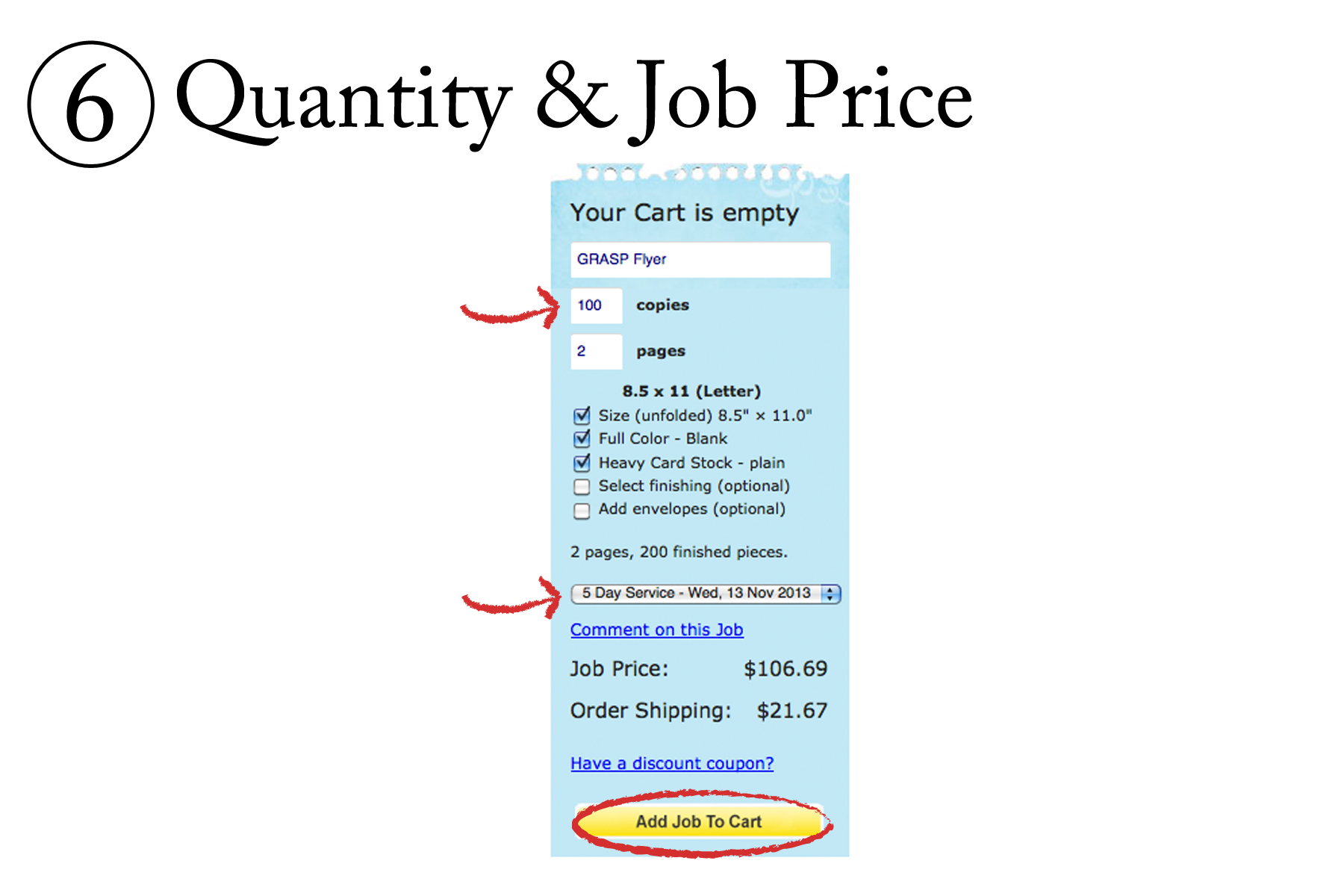 In this area, you can name your job to be able to better identify it in your cart. Your job quantity can be specified where the first arrow is in the example above - in this case, we will print 100, but remember you can print as many or as few as you need! The pages are specified as 2 because we uploaded front and back files. You can review your previously selected job specifications to ensure you didn't miss anything. The drop down menu for shipping displays the date which you're guaranteed to have your order in your hands to you by, shown with the second arrow. You will then see your job price listed, and the order shipping will change depending on the shipping speed you have selected. Once this is complete, please select add to cart!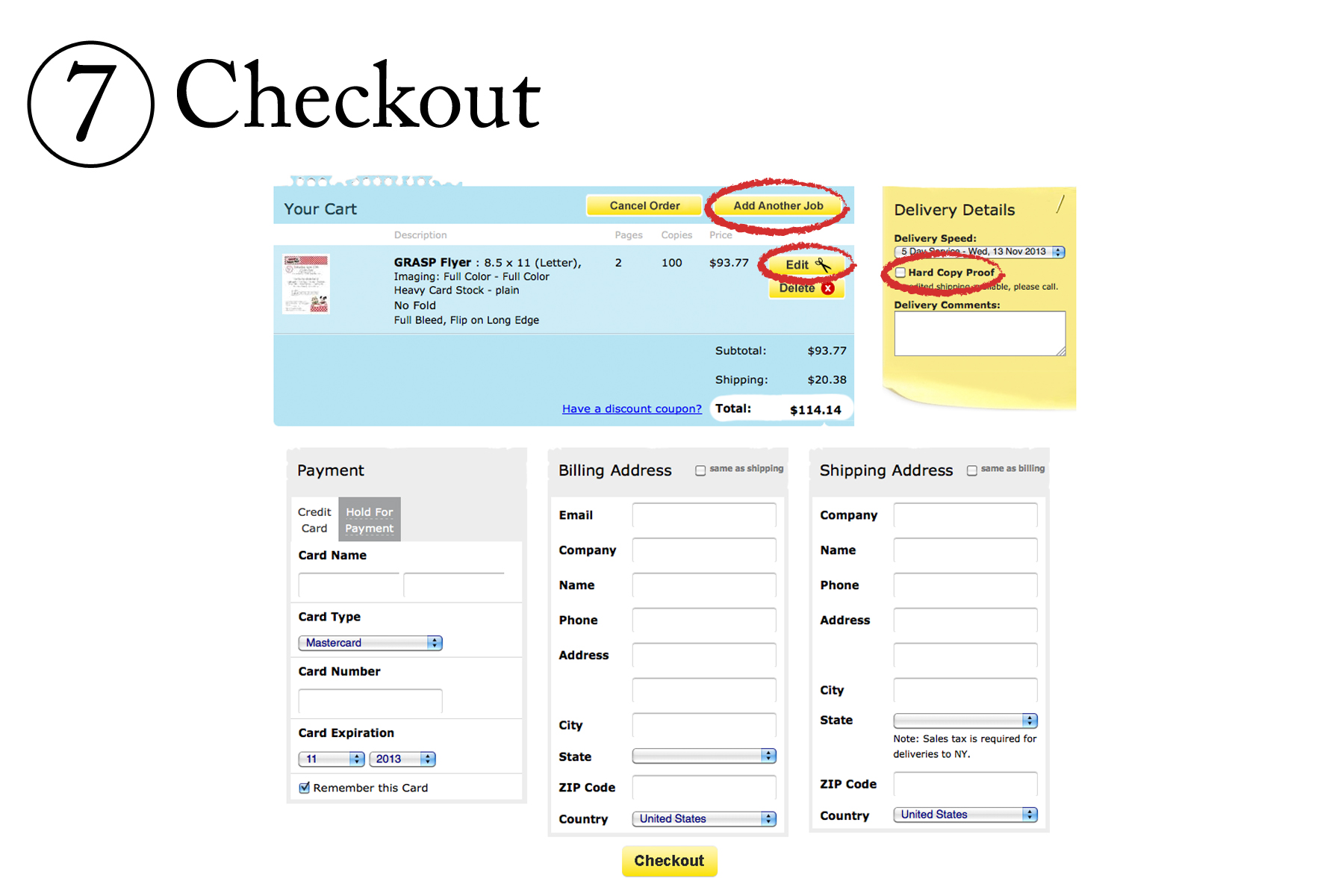 Lastly, you'll need to fill out your payment information, billing and shipping address. Here you can also add another job, edit the job in your cart and choose to receive a hard copy proof! Once this information is completed please select checkout! You will receive an email confirmation with your order number. We always encourage customers to review this confirmation email and contact us immediately with any questions or concerns!
Create Your Design Upload Your Design Contact Us Online Chat