user logout link
administrator logout link
Foster Animals
As many of you may already know, here at CatPrint we are huge animal lovers! Not a day goes by without a four legged friend in the office. When we moved to our current location in March of 2012, we began fostering cats for a local animal rescue group. While fostering can be difficult at times, especially when they find their new forever family, this is a great experience and way to help your local animal rescue community. Foster homes are one of the largest needs with any rescue group. Please continue reading to meet our previous foster cats, as well as the unexpected rescue kittens and dogs that we have helped over the years!
Jacklin was our first foster cat. She came from a hoarding situation in Spencerport, NY where there were over 50 cats and kittens in one small home. She was super sweet, but was very scared and liked to stay in small areas. The first week we had Jacklin, she found the only way in the whole office to get inside the wall - under the sink in the upstairs bathroom. She was perfectly happy in there, purring and sleeping, but we knew we had to get her out. It took us over 2 hours of sitting on the floor and patiently feeding her tuna, turkey and anything else we thought would lure her out of the wall. Jacklin got adopted by CatPrint owner's son and daughter in-law and is now renamed "Heidi" for obvious reasons.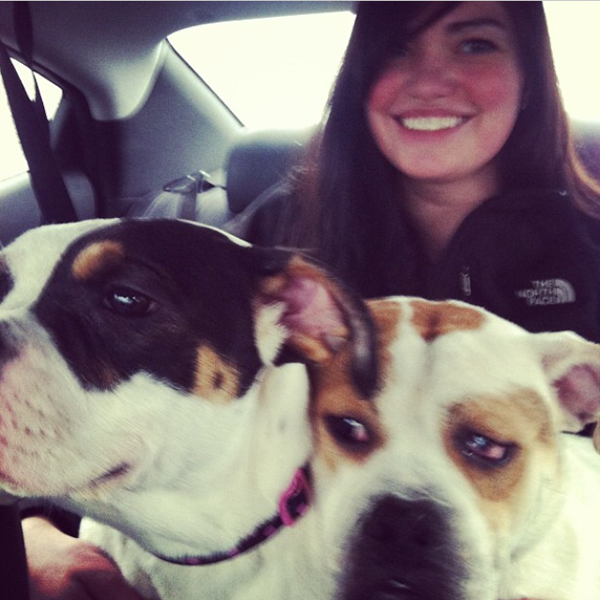 One rainy day, there was a transport needed for two American Bulldog mixes, Hannah and Freddy. These two were found as strays, wandering around the neighborhoods of Greece, NY together. Becca and Nicole set out to pick them up from animal control and bring them to their vet appointments. It was quite the adventure as they had been in a small kennel for the last 10 days, but how can you not fall in love with those sweet faces?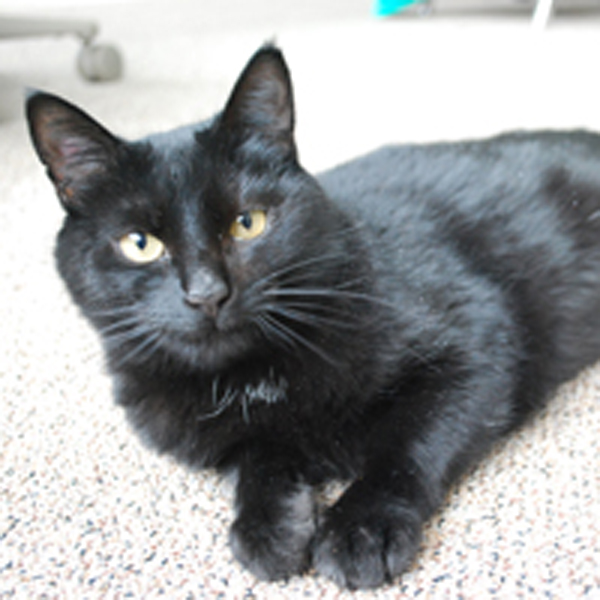 Ashes was our second foster cat. She was found as a stray with her two young kittens. Once they were adopted Ashes came to stay at the CatPrint Inn where she made herself at home - she even helped herself to employee's snacks! Her favorite thing about staying at CatPrint was the spiral staircase. She would lay on the center stairs watching over the production offices, and waiting to trip you as you walked down. She also created a new game - you'd play whack-a-mole with you, the space in the stairs and Ashes' paw. Ashes was adopted to a wonderful family in the late winter of 2012.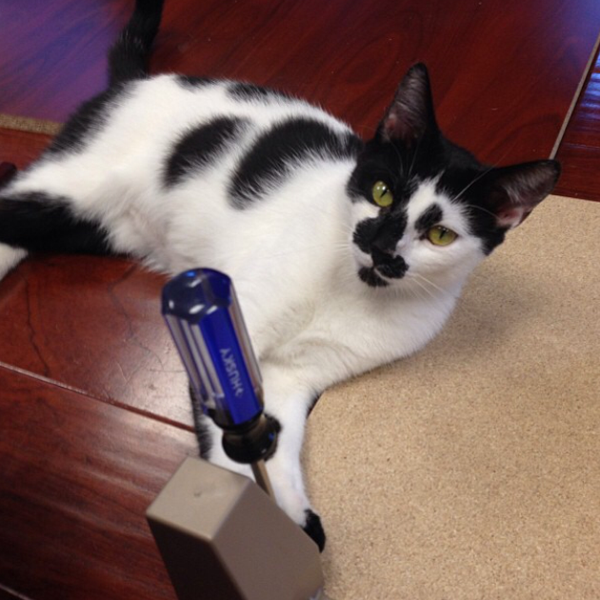 Rosalee was our third foster cat. She was also found as a stray, but with 5 kittens that were one week old. Nicole fostered her and her kittens at home until the kittens were old enough to get adopted. Rosalee came to CatPrint in June 2013. She was quite the talker! Everyone morning when we got in, she would let us know she expected her wet food that instant! Then she'd go through her routine of running up and down the stairs. As you can see in her photo, she was a great helper when we were putting new desks together for the customer service department. Rosalee was adopted to a wonderful woman and renamed "Sweetie."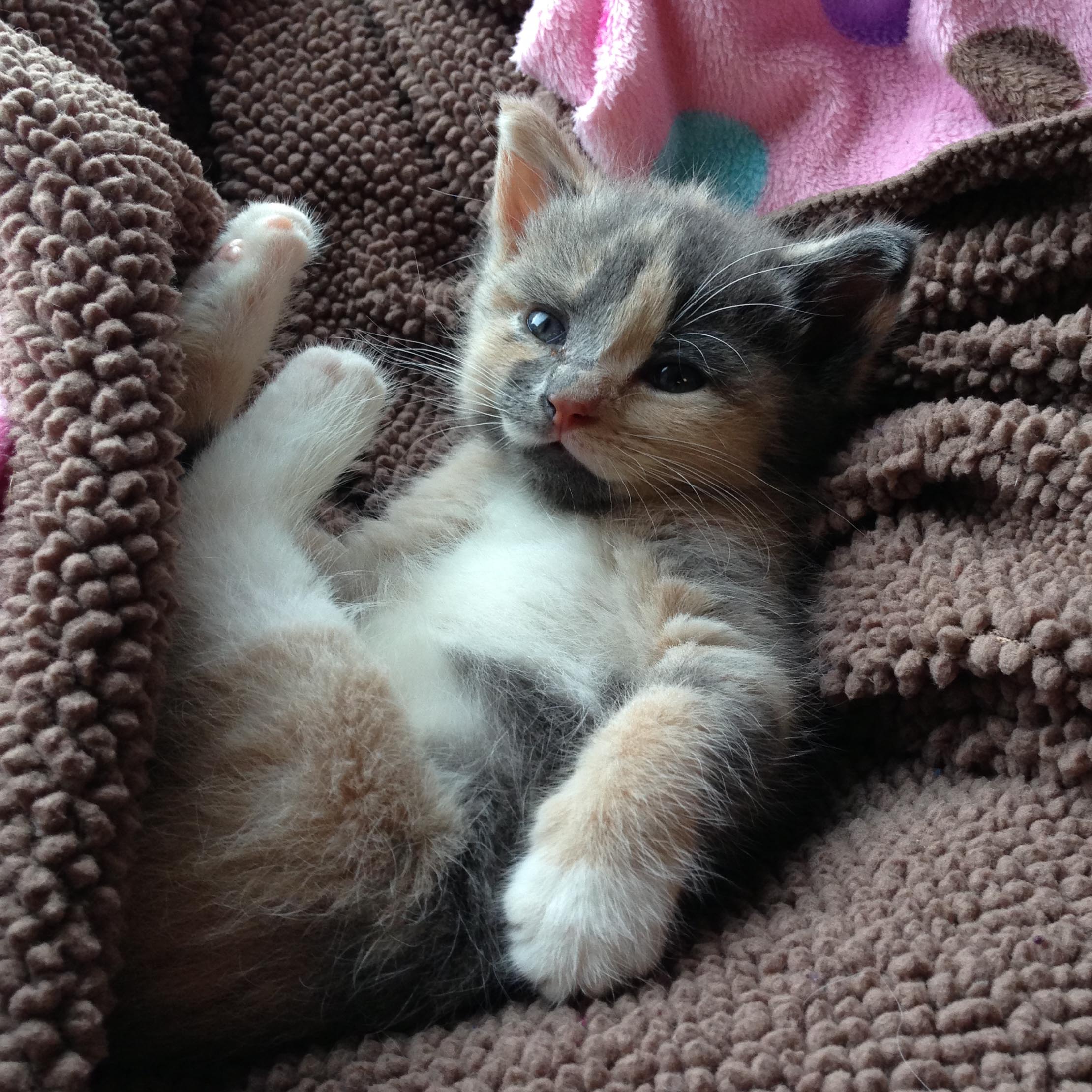 Aria was a temporary foster at CatPrint starting in August 2013. She was found as a stray, all alone in the city of Rochester at the age of 3 weeks old. Nicole took her in as a foster, but since she was so young, Aria had to be bottle fed every 3 hours around the clock - which meant she came to the office everyday for the next 4-5 weeks! As you can see, she was the most adorable kitten ever! She was adopted to a family with other cats and dogs where she is being spoiled rotten!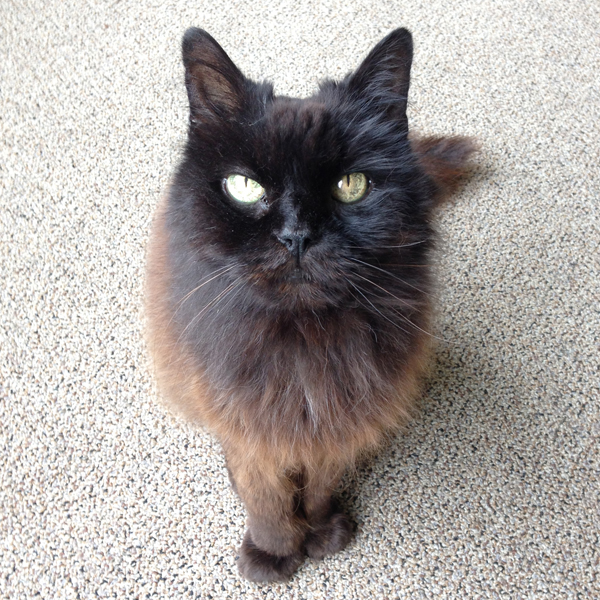 Brownie was our fifth foster cat. She was found as a stray in the middle of winter. She was beautiful and sported a very stylish ombre coat. Brownie came to us with chronic renal failure at the age of 17 years old. She was a slow, old lady until the dogs got in her way - then you better watch out! She would chase them around and around faster than they could move in the production offices. Brownie was coming to the end of her golden years and needed a quiet place to rest, so Nicole took her home for the next few months. Brownie crossed the rainbow bridge in late 2013.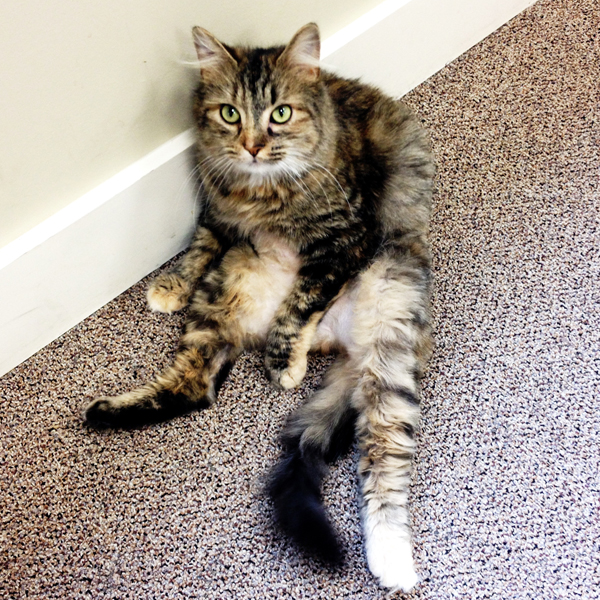 Domino was our sixth foster cat. She was found outside a local Domino's pizza begging for food in the cold winter weather. When she first came to us, we thought she was pregnant. She seemed overall healthy, but was very thin with a big belly. We took her to the vet to get treated for an parasites, but then took her to get an ultrasound at a local school where they teach EMT classes. Good news: Domino was not having kittens! We watched her transform from a straggly stray with no manners into a beautiful long hair, extra toed kitty over the next few months. She got along with everyone and especially loved the men of CatPrint- she was such a flirt! Domino found a wonderful home with a family and has a new Pomeranian brother!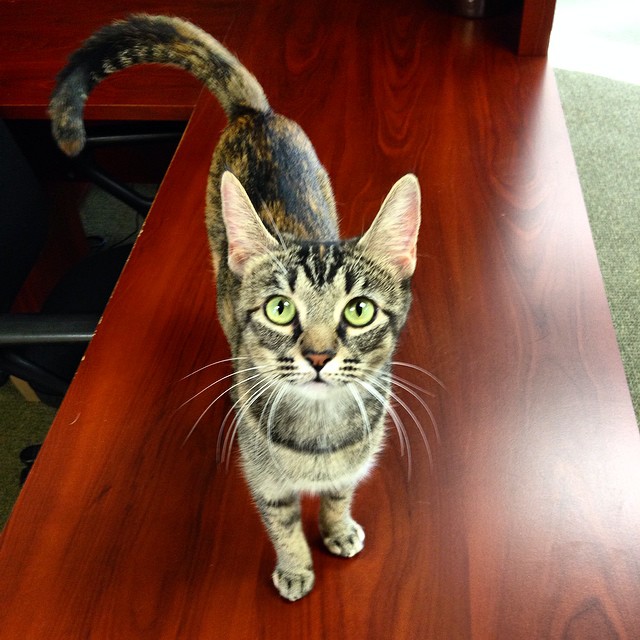 Our seventh foster cat was Sweet Pea! Sweet Pea needed a foster home and CatPrint decided to give her one. She was really tiny when she arrived at CatPrint, even though she had just given birth to kittens! She loved greeting CatPrint employees in the morning, and definitely loved playing with her cat toys! She was quite a curious cat, and even caused a Cat-astrophe when she knocked over and broke one of our Customer Service Rep's potted plants! During Christmas Break, her previous Foster Mom offered to foster her again. Sweet Pea was quite loved by everyone, and was eventually adopted into a wonderful home.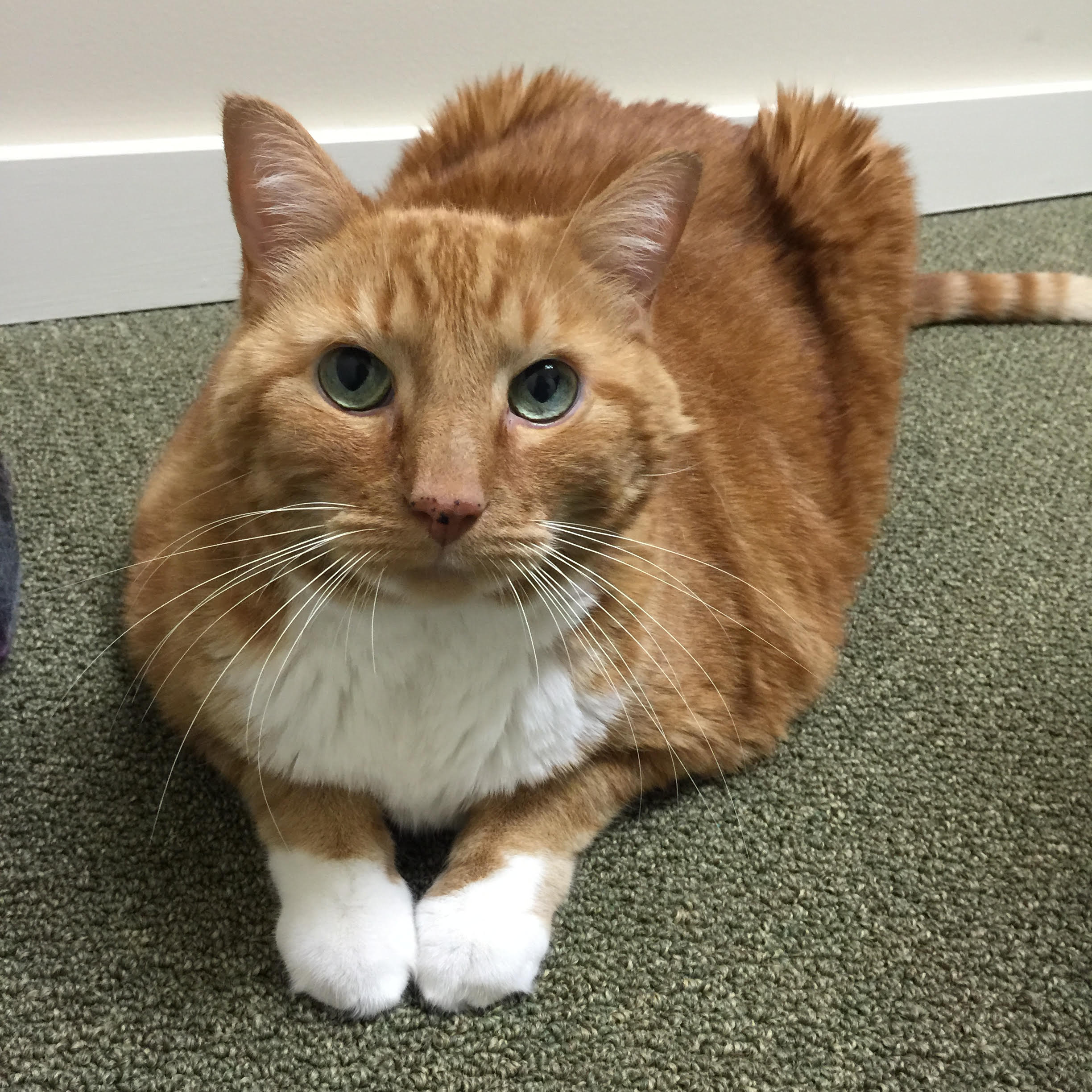 Our eighth foster cat was handsome senior cat named Max. CatPrint started fostering Max since July 2015. At first he was a really shy guy who would hide from everyone and every noise that he heard. But then he came out of his shell greeted everyone at CatPrint every morning! He was a sweet cat who was always begging to be petted, rubbed, and brushed. Max was adopted to his forever home in mid-September 2015 where he also has a companion senior cat and dog!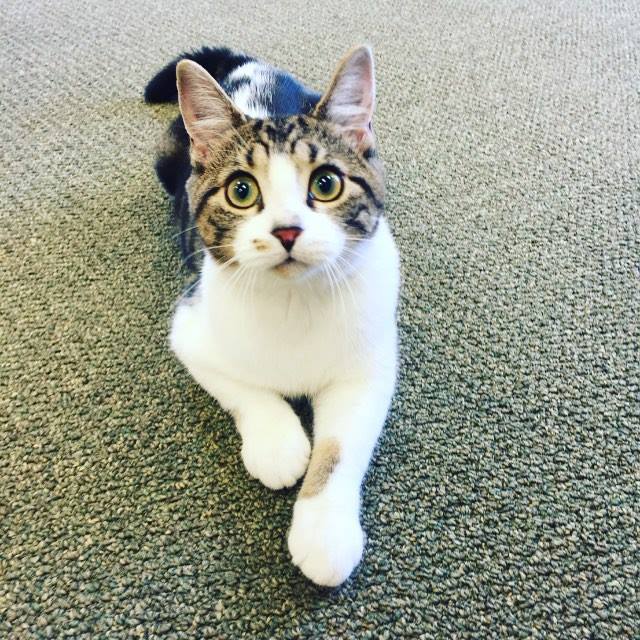 Our ninth foster cat was a very pretty kitten named Marilyn Monroe! She is a very active cat who loves to play in the office. She surprisingly got along with the two office boxer dogs, Coffee and Lily! Marilyn Monroe was adopted into a loving home, where she has now been renamed as Chloe.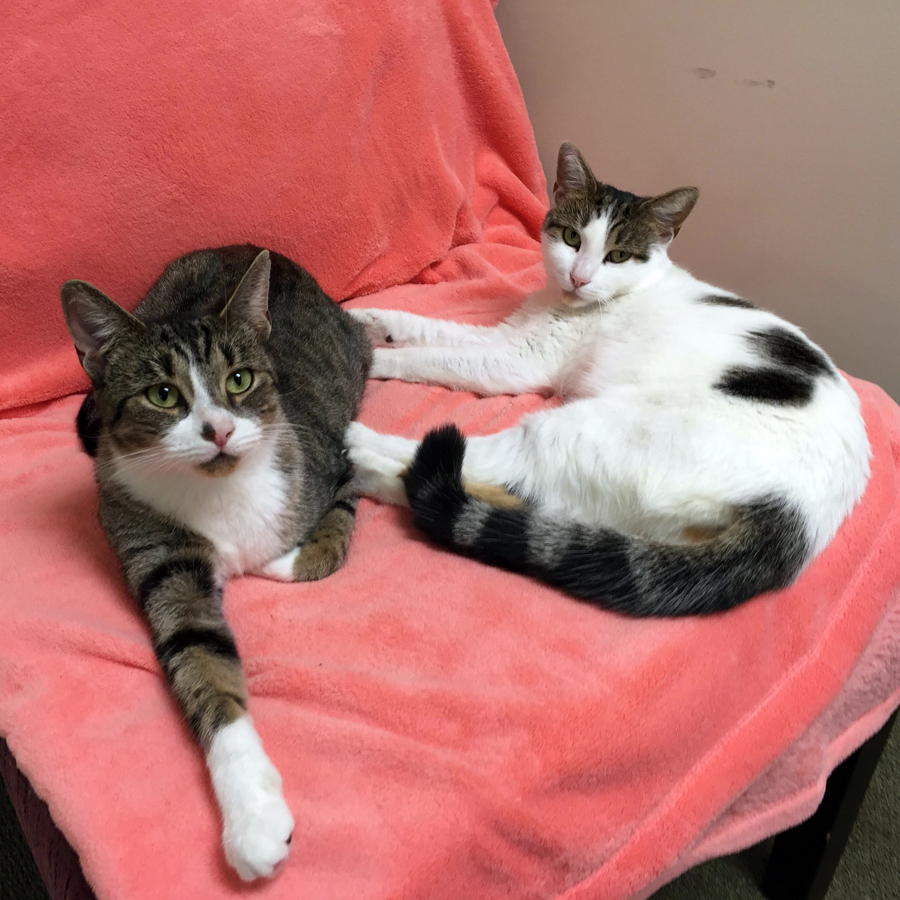 Our tenth & eleventh foster cats were two bonded sister cats named Paige & Avery! These two sister cats were found huddled together under a shed for a week. They are both very sweet and love to be petted and cuddled with. They were both adopted into their forever home right before Thanksgiving 2015.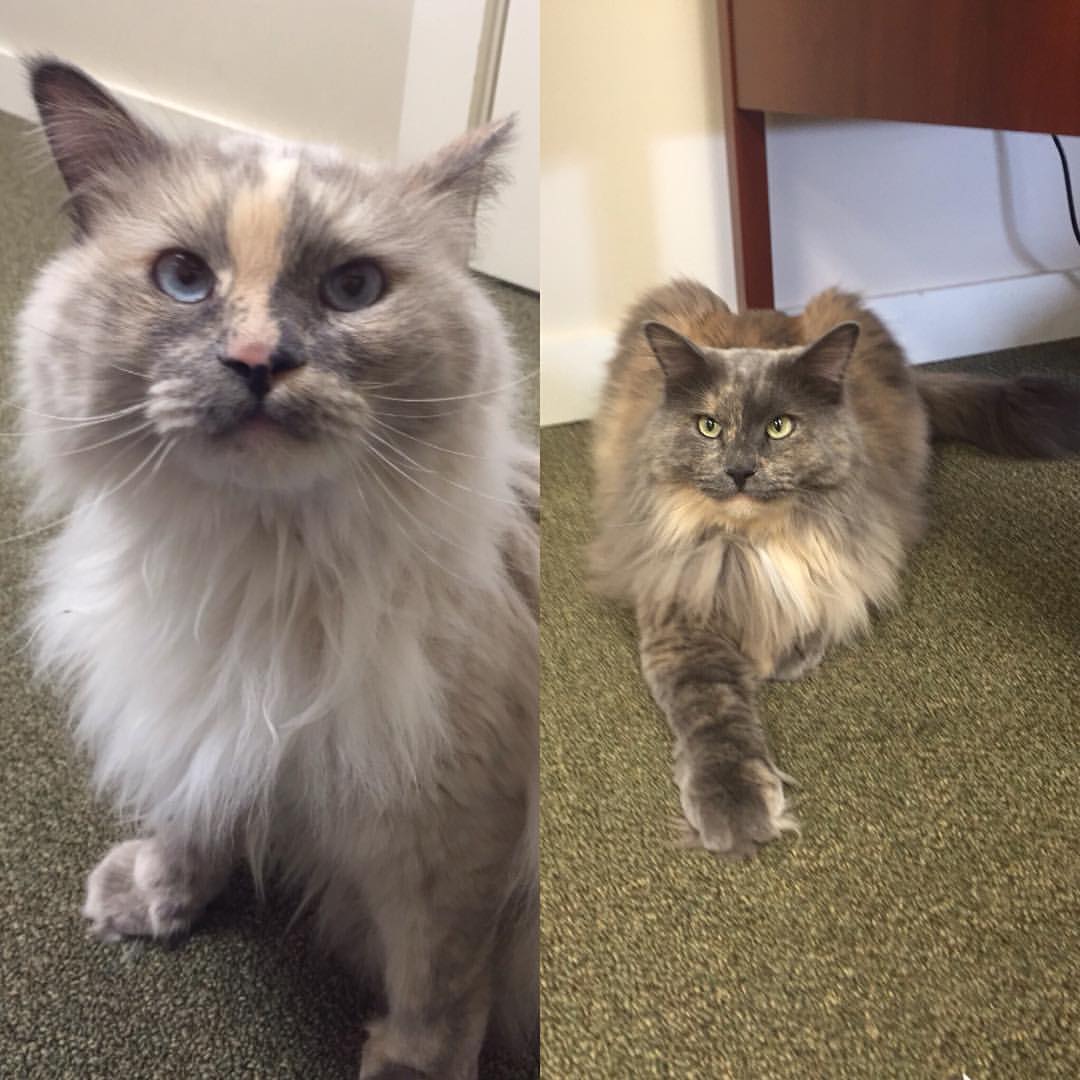 Chloe & Sophia were our thirteenth and fourteenth foster cats. They were beautiful as you can see! Sophia was confident and sassy. She was adopted by a wonderful family and gained a new human brother. Chloe was very shy and had some medical issues, but it didn't slow her down from playing hide and seek to keep us on our toes! When Chloe's new family came to pick her up one evening, she was no where to be found - literally. We all looked for hours and hours before finally giving up hope and sending her new family on their way home without their four legged friend. Before leaving a few CatPrinters decided to have one more walk through to try to find Chloe and sure enough they found her - in the drawer to the bathroom sink!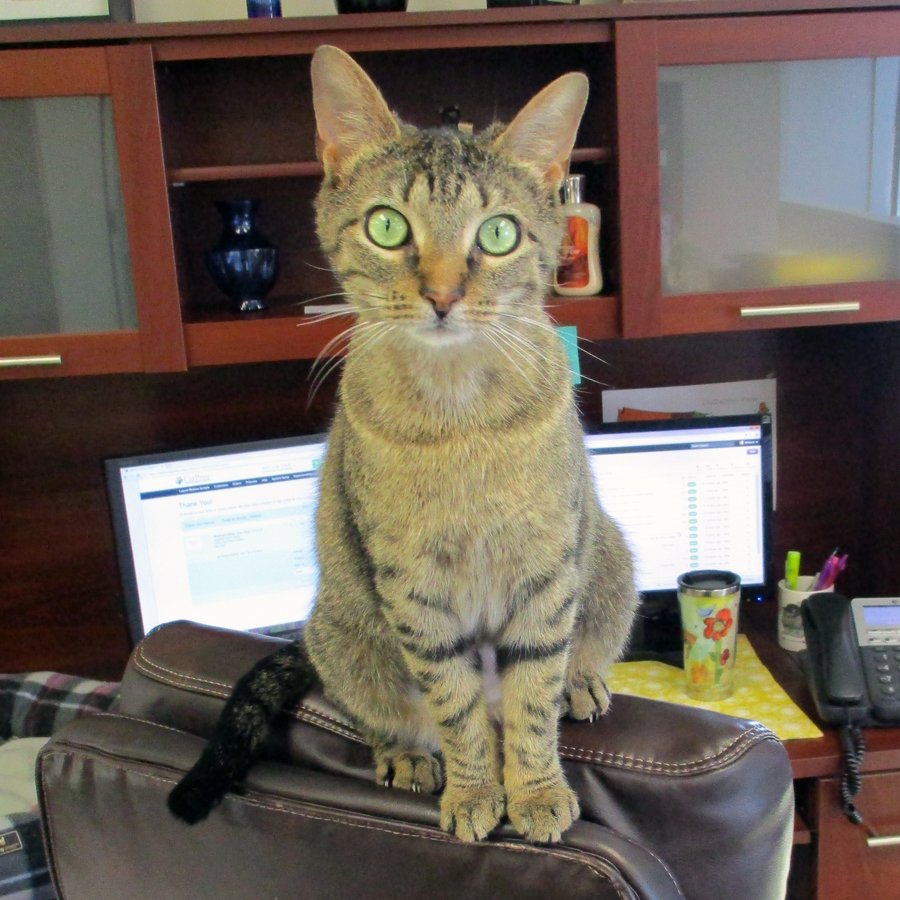 Our fifteenth foster cat was named Beth. She was a handful - and that's putting it kindly. She had kitten energy and always needed your attention. She liked to share your morning cereal with you, as well as sleep on your desk in the afternoon after hours of running around the office. Her favorite morning activity was to sit on the back of our customer service representative, Melissa's chair and meow up a storm until someone got up to give her attention. She was adopted to a great couple who was eager to give her the love she demanded. We were happy to have a break from her demands, but do miss her dearly (sometimes).
Create Your Design Upload Your Design Contact Us Online Chat